IF Madonna ever ends up in your shop or restaurant, DON'T whip out her greatest hits album!
The Queen of Pop says she hates it when people put on her early hits such as Like A Virgin and Holiday.
"Not to toot my own horn but they always play my old stuff when I'm in a shop or wherever. They are usually songs I am really sick of though and I have to say 'Oh please, turn this off.'
"For some reason people think that when you go to a restaurant or you are going shopping that you want to hear one of your own songs. It's usually Like a Virgin — and that is the one I don't want to hear."
The 51-year-old superstar recently admitted that she thinks some of the songs that turned out to be her biggest hits — including Into The Groove — sound "retarded".
"I've never been a good judge of what things are going to be huge or not," Madonna said. "The songs that I think are the most retarded songs I've written, like Cherish and Sorry, a pretty big hit off my last album, end up being the biggest hits. Into the Groove is another song I feel retarded singing, but everybody seems to like it."
[img]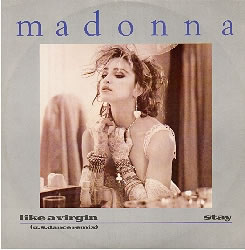 [/img]